SUMMER TOURS
May – September
Flower Kennel and Homestead Tour
A Musher's Homestead – Alaskan lifestyle experience – off-grid living with sled dogs.
Welcome to our home.
Where you will meet the sled dogs up close and learn about our off-grid year-round Alaskan homestead.
The dogs are part of the homestead lifestyle and also our extended family (they all come in the cabin for their daily couch time and get lots of play time around the homestead). Besides exploring Alaska together, they also provide the much needed hauling muscles in winter when we cut firewood and haul water from the spring.
When visiting the homestead you will learn about sled dogs and mushing in general and meet each dog individual. Each dog has a different characters and requires specific care and training to excel in their work and life. There will be plenty of opportunity to cuddle with the dogs and take pictures.
Over a cup of coffee or tea, you will be shown around in our off-grid dry cabin (no utility connections or running water) and will see first hand what it takes to run all the systems needed to live in Alaska in summer as well as in winter. We collect our own water, provide for out own electricity and heat, and grow, gather, bake, and ferment most of our food and try to live a simple sustainable life as much as possible.
The tour is setup very personal to encourage questions and an in depth experience.
Don't miss out on this unique experience to see how we Alaskan live.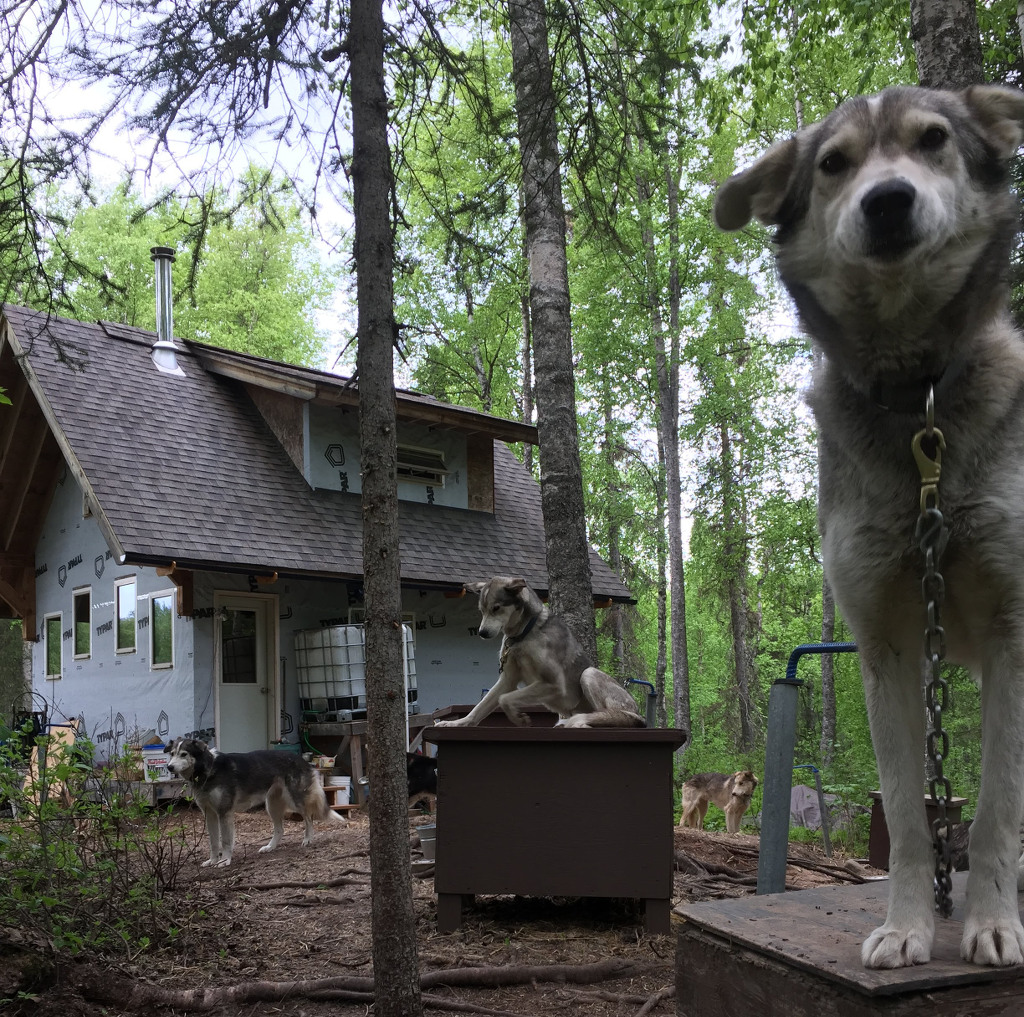 Lilja showing off the homestead
Duration: 1:30 – 2:00 hrs
Time:
Summer: Daily at 10:30AM, 1:30PM and 5:00PM
Fall: Daily at 11:00AM and 3:00PM
Please contact us for different hours inquiry

Price: Adults: $60
* Due to the educational level of our tours, we do not accept children 11 years old and under. Please contact us for exceptions.
Group size: 1 – 6 Guests
Please contact us if your party has more then 6 guests
Place: The Flower Kennel and Homestead is about 6.5 miles south of Talkeetna. Detailed directions will be sent upon reservation.
Please note: We do not provide transportation. 

Our business is our home. Reservations are required.
* non-american credit card holders can leave the zip code field blank
How to dress: Wear clothing which you don't mind getting dirty. Avoid any dang-lies like scarves, sweater strings or long loose hair. Sled dogs are playful and rowdy. Wearing durable outdoor footwear and bringing rain gear is highly recommended.
Things to know before you book:
* A basic knowledge of English makes the trip more enjoyable.
* This is not a fancy tourist attraction, but a intimate peek into a musher's homestead life.
* We do not provide cart rides. Our dogs have a heavy coat and will overheat quickly in the warm Alaskan summers.
* We do not have indoor plumbing, and sport an outhouse.
* Due to the educational level of our tours, we do not accept children 11 years old and under.
* The tour requires some walking on an incline gravel trail.
* We do not have puppies.
* Smoking is not allowed on the homestead.
* No pets of any kind are allowed on the homestead.
Cancellation policy: If your party or any individual in your party cancels outside of 48 hours of your scheduled trip, we will provide a full refund minus $10/pp administration fee. No refund will be given, if your party or any individual in your party cancels inside of 48 hours of your scheduled trip. No refunds will be given for no-shows. Weather is not a cause for cancellation since tours run rain or shine. The Flower Kennel can cancel a trip for any reason (including injury, sickness, inclement weather, equipment failure) and we will in that case provide a 100% refund.